|

Overview

|

Features

|

Specifications

|

Review

|

Package
The DataTale SMART 2-Bay RAID System is customized with an intelligible GUI (RAID MASTER) for personalized RAID settings, which eliminates the need of traditional RAID flip-switches and allows managing RAID tasks with ease! There is a set of colorful LED indicators for immediate system status, and quad interface ports for accommodating a variety of connection configurations. By providing an intuitive GUI called RAID MASTER, along with LED indicators and SmartGuider* feature, the DataTale SMART 2-Bay RAID System is designed to be SMART!

User Friendly GUI
With the user-friendly RAID MASTER application, anyone can arrange desired RAID tasks or become alerted of potential system problems. The DataTale SMART allows straightforward RAID mode-setting including: JBOD (None RAID), RAID 0 (Striping), RAID 1 (Mirroring), and SPAN(Large)! Based on preference, any two 3.5-inch SATA hard drives can be combined as a single volume using SPAN/RAID1/RAID0 modes, or be kept separated as 2 volumes under JBOD mode. Either way, storage capacities wouldn't be wasted and/or RAID data storage protection could be applied for backups!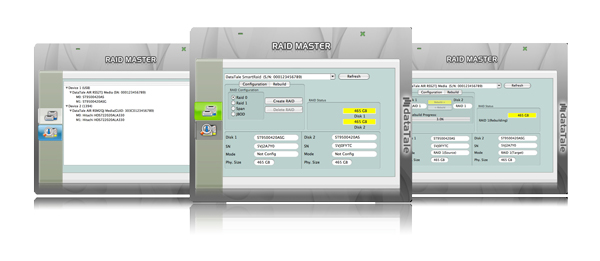 Flexible & Easy-to-use Design

The SmartGuider* design makes hard drive installation, removal and insertion an absolute breeze! Also, the unique auto-limiting segmented screws prevent the hard drive from damages due to over-tightening during installation.
Taiwan New Design Patent: M354309

Excellent Yet Silent Heat Dissipation
The upright yet vertical placement of hard drives within the aluminum case maximizes internal airflow and creates excellent heat dissipation! Furthermore, the low-dB fan makes the DataTale SMART a pleasant company to have!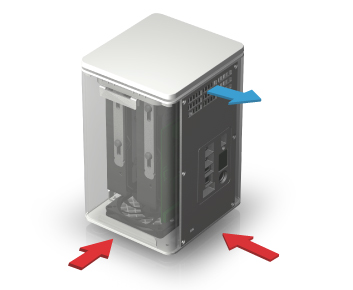 2TB+ Support Ready & Fast Speeds
Lastly, the DataTale SMART can support more than 2TB of hard drive storage capacity and tops most consumers' expectations with its high-speed performance in data transfer!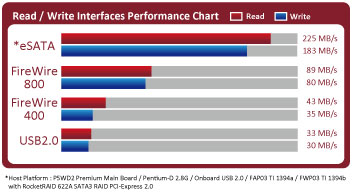 Supports current SATA compliant hard drives
Connects flexibly via USB 2.0, eSATA, 1394a, or 1394b
Provides JBOD (None RAID), RAID 0 (Striping), RAID 1 (Mirroring), and Span
Configures RAID modes easily using RAID MASTER (GUI)
Monitors System status via LED indicators or RAID MASTER
Prevents over-tightened hard drive's with auto-limiting segmented screws
Features effortless and trayless hard drive hot-swap & hot-plug with SmartGuider
Dissipates heat efficiently with aluminum housing and SmartGuider design
Maximizes airflow with silent fans and mechanical designs
Specifications

Download

Interface
USB 2.0 / eSATA / FireWire 400 / FireWire 800
Hard Drive Support
3.5" SATA Hard Drive
Connector
USB 2.0 x 1, eSATA x 1, 1394a x 1, 1394b x 2
Data Transfer Speed
USB 2.0: up to 480Mbit/sec
eSATA: up to 3000Mbit/sec
1394a: up to 400Mbit/sec
1394b: up to 800Mbit/sec

RAID Level
JBOD (None RAID), RAID 0 (Striping), RAID 1 (Mirroring), Span (Large)
LED Indicator
Power / Connection / Health / Access / Rebuild / Fan Error
System Material
Aluminum case with plastic parts
Power Supply
Input: AC 100~240V; Output: DC +12V/4.16A
FAN
Dimension: 80 x 80 x 10 mm;
Speed: 1900 R.P.M +-10%; Noise: 17.13 dB(A) max
Dimension
126 (L) x 138 (W) x 213 (H) mm
Weight (w/o Drives)
1.35 KGS
SMART 2-Bay RAID System
USB cable
eSATA cable
FireWire 400 cable
FireWire 800 cable
2 HDD handles
8 HDD screws
RAID MASTER CD
Quick Start Guide