¡U

Overview

¡U

Features

¡U

Specifications

¡U

Review

¡U

Package
Our Deluxe Backup Kit is perfect for mobile professionals and power users who frequently share large files between different locations, need multiple duplications for further usage, and or just need space capacity! The Deluxe Backup Kit includes a DataTale 4-Bay SMART RAID System and a DataTale Portable 3.5-inch HDD Enclosure. With this Backup Kit, one is able to backup with speed and operate while traveling under JBOD, Mirror, or Clone modes.

Under JBOD mode: with the SmartGuider*, either hard drive in the 4-Bay SMART RAID System can be easily taken out and directly inserted into a Portable Enclosure for travel. Each hard drive inside the Portable Enclosure can be modified and put back into the 4-Bay SMART RAID System to support the host computer as an individual hard drive.
*Taiwan New Design Patent # M354309

Under Mirror mode: with the SmartGuider and a Portable Enclosure, files stored in the 4-Bay SMART RAID System in the office can be easily brought home for protection and further revision or vice versa. It is convenient for professionals who frequently share huge files between different locations or prefer to keep valuable files at different locations for security reasons.

Under Clone mode: after working on the extracted hard drive from the RAID MASTER using the Portable at home, the revised version can be Cloned onto 3 other hard drives for client or other team member access! No need to worry about downloading or copying files onto other computers!

Please see the Specifications for the combination.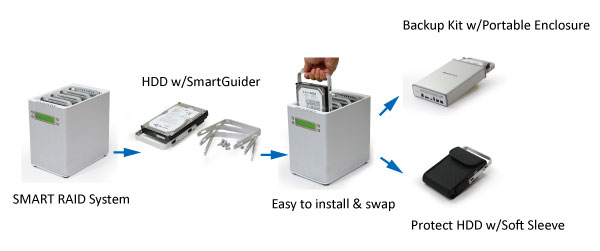 Supports current SATA II compliant HDDs, fully backward compatible with SATA 1.0 and SATA 1.0a compliant HDDs*.
The "Desktop" editions of WD hard disks are not recommended. See Are there any limitations for SATA hard disks in RAID Systems in the "DataTale??RAID System" section under Troubleshooting page

Appreciates Hot Plug support and effortless drive swapping


Suitable for often HDD swapping with an open-back design (Portable only)


Enable simplified HDD installation, trayless HDD positioning, and HDD replacement with SmartGuider


Makes the entire Unit an efficient channel for heat dissipation and maximizes airflow with low-dB fans, aluminum housing, and upright mechanical design


Reduces noise and dimension of the case significantly due to the no fan design (Portable only)


Sits stably on a desktop with lasso feet on both edges (Portable only)


Secures HDD's position when the HDD is moved around with Twist Locks (Portable only)


Prevents over-tightened HDDs with auto-limiting segmented screws


Reduces power consumption with HDD spin up/down support (Portable only)


Monitors system status via LED Indicators (power, connection, health, access, rebuild, and RAID Alert), LCM or RAID MASTER (RAID System only)


Monitors current power status and data access with an LED-Integrated Power Button (Portable only)


Configures RAID modes easily using LCM or RAID MASTER, no IT expertise required


Provides robust storage management under JBOD, RAID 0 (Striping), RAID 1 (Mirroring), Span, Clone, RAID 5, and RAID 1+0, and optional HotSpare


Features HotSpare and Automatic Rebuild for RAID 1+HotSpare, Clone+HotSpare, and RAID 5+HotSpare


Partners well under JBOD, Mirror, Clone modes, or multiple RAID sets


Supports both on-line & off-line Automatic Rebuild


Extends connection flexibility to host with plug-n-play via Hi-Speed USB 2.0 and eSATA ports



Specifications

Download

For MAC user
RC-M4QJ 4-Bay SMART RAID System & TQ-M12H Portable HDD Enclosure
For PC user
RC-M4DJ 4-Bay SMART RAID System & TD-M11H Portable HDD Enclosure