|

Overview

|

Features

|

Specifications

|

Package
The Thunderbolt™ technology is the newest, most powerful, and flexible I/O technology ever created for a personal computer today. It can be utilized to many products, but the most popular usage is in storage products. Thunderbolt™ technology offers lighting data transfer speed and daisy chain up to six devices without degrading the speed rates.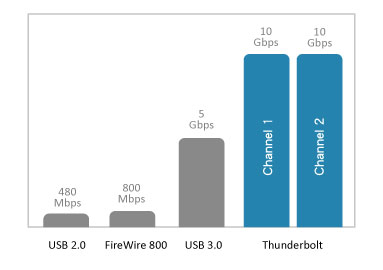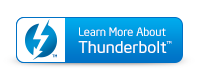 Designed for the SD cards and CF cards users, DataTale CR-FD21 Thunderbolt™ Card Reader provides two SD 4.0 slots and one CF card slot to transfer digital data simultaneously up to 800MB per second.
DataTale CR-FD21 Thunderbolt™ Card Reader delivers a new level of performance to SD/CF cards and digital data storage users, and allows massive data move between thunderbolt-equipped host and digital camcorders or digital camera.
By employing the new Thunderbolt™ technology and SD4.0 card/CF card support, the DataTale CR-FD21 Card Reader becomes the perfect audio/video/movie/photos/data transfer unit with offloading of spanned clips support, using its two media card slots; and can be accessed at a maximum of 800MB per second, using two SD 4.0 cards and one CF Card simultaneously, like the sound of thunder!
The CR-FD21 Thunderbolt™ Card Reader is bus-powered. The LED indicators display the data access process. With its compact design, the CR-FD21 can be carried easily.

Connects via Thunderbolt™ ports, up to 10 Gbps data transfer rate

Supports 2 x SD 4.0 card and 1 x CF card simultaneously, up to 800Mbps transfer rate

Compatible with Time Machine (Apple) for backups and file protection

Provides multiple media slots with increased speed and flexibility

Monitors data transfer status via LED indicators

Dissipates heat efficiently with aluminum housing

Plug-n-play connection
Specifications

Download

Media Support
SD card, up to SD4.0, SDHC, SDHC UHS-I, SDXC, SDXC UHS-I, SDXC UHS-II
CF card, CF Type I (UDMA 0-6),
CF Type II (UDMA 0-7) compatible
Memory Slots
SD 4.0 x 2
CF x 1
Interface
Thunderbolt
Interface Transfer Speed
10 Gbps
LED Indicator
Link / Read / Write
Dimension
Body: 110 (W) x 68 (D) x 24 (H) mm
Cable & Connector: 332mm
Weight (w/o HDD)
180 g
System Requirements
Computer with a Thunderbolt™ port
Mac OS X10.8 or higher
Windows 7 or later