|

Overview

|

Features

|

Specifications

|

Package
The Thunderbolt™ technology is the newest, most powerful, and flexible I/O technology ever created for a personal computer today. It can be utilized to many products, but the most popular usage is in storage products. Thunderbolt™ technology offers lighting data transfer speed and daisy chain up to six devices without degrading the speed rates.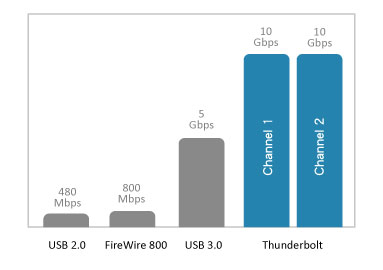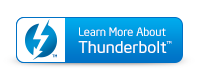 DataTale Thunderbolt Adaptor connect your USB2.0/USB3.0 devices, and/or eSATA device simultaneously to the Thunderbolt, optimizing Thunderbolt bandwidth.
Plug-n-play connection. TG-UE11 Thunderbolt -USB3.0/eSATA Adaptor links USB3.0 and eSATA peripherals simultaneously to Thunderbolt equipped host, providing the most flexibility and connectivity.
You can also expand USB3.0 connection via adding DataTale U3-H41 USB3.0 4-Port Hub to Thunderbolt Adaptor.
Specifications

Download

Connectors
USB3.0 port x 1
eSATA port x 1
Transfer Speed
Thunderbolt: Up to 10 Gbps
USB3.0: up to 5Gbps
eSATA: up to 3Gbps
Operating System
Computer with a Thunderbolt™ port
Mac OS X10.8 or higher
Windows 7 or later
Dimension
Body: 80(L) x 60 (W) x 19 (H) mm
Cable & Connector: 130mm
Weight
75g
Compatibility
DataTale Thunderbolt Adaptor support Thunderbolt-equipped hosts, and also compatible with following MAC machines.
MacBook with Thunderbolt (without USB 3.0)
> MacBook Air (11-inch, Mid 2011)
> MacBook Air (13-inch, Mid 2011)
> MacBook Pro (13-inch, Late 2011)
> MacBook Pro (13-inch, Early 2011)
> MacBook Pro (15-inch, Late 2011)
> MacBook Pro (15-inch, Early 2011)
> MacBook Pro (17-inch, Late 2011)
> MacBook Pro (17-inch, Early 2011)

iMac with Thunderbolt (without USB 3.0)
> iMac (27-inch, Mid 2011)
> iMac (21.5-inch, Mid 2011)

Apple Thunderbolt Display (without USB 3.0)
> 27-inch

Mac mini with Thunderbolt (without USB 3.0)
> Mac mini (Mid 2011)