¡U

Overview

¡U

Features

¡U

Specifications

¡U

Package
DataTale RACK M-100 & M-120 Mac Mini RACK enclosure is the best solution for adding one or two Mac mini server and computer to a standard rack chassis, supporting one or two Mac mini side-by-side with easy access to its main ports. DataTale RACK M-100/M-120 uses 1U height and can be optionally equipped with slide rails for even better access to the Mac mini installed.

The RACK M-100 & M-120 is equipped with pre-installed ports, allowing easy access to Mac Mini's HDMI port, Ethernet Gigabit port and USB 3.0 ports. It also provides a front panel power switch to power on/off the Mac mini as well as a USB 3.0 port to conveniently access each Mac mini from the front (i.e. attaching a keyboard/mouse).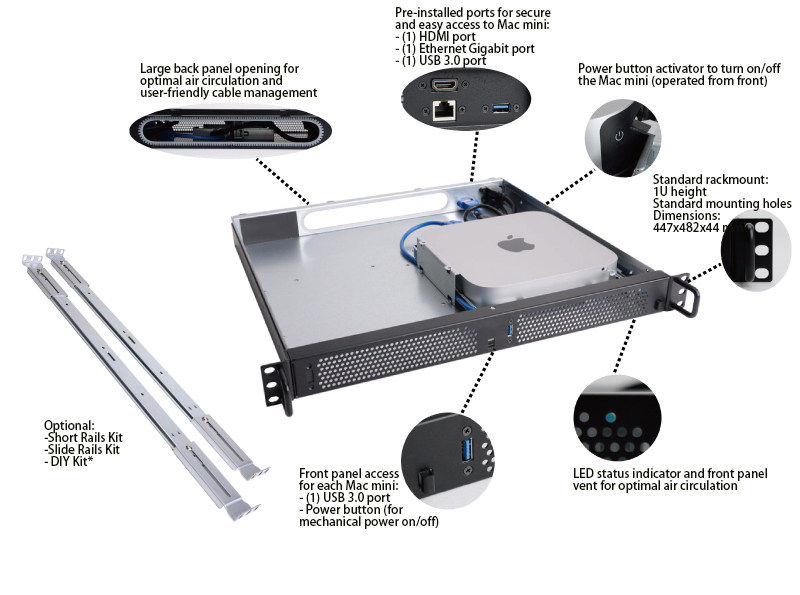 *DIY Kit is for the 2nd Mac mini consisting of all metal parts, screws, rubbers, cables. RACK M-100 can be upgraded to be RACK M-120 with the DIY Kit.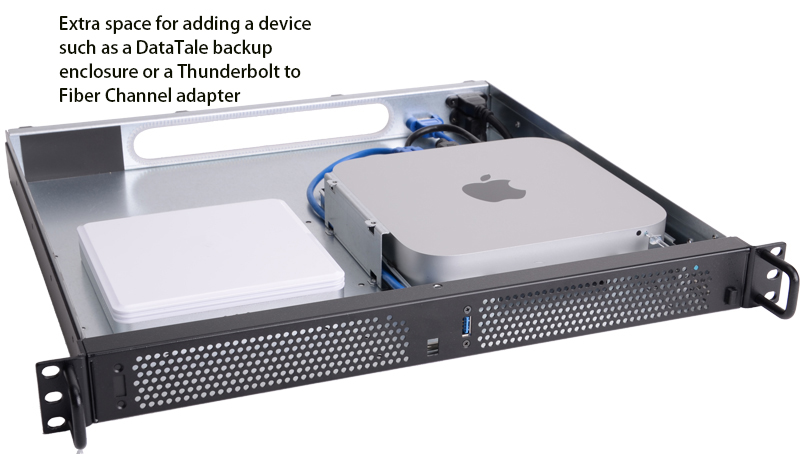 Specifications

Download

Cable/Connector
1x USB 3.0 cable/port front,
1x USB 3.0 cable/port rear,
1x HDMI cable/port rear,
1x Ethernet cable/port rear
Compatibility
Mac mini (Mid 2010, Mid 2011, Late 2012)
Mac mini Server (Mid 2010, Mid 2011, Late 2012)
Rackmount Standard
1U
System Material
Metal housing
LED Indicator
Mac mini power status indication
Dimension
447 x 482 x 44 mm
Weight
3.9 KGS
Rackmount 1U enclosure for (1) Mac mini*
USB cable x 2
HDMI cable x 1
Ethernet Gigabit cable x 1
Lid
Screws
*Mac mini not included

Optional
Short Rails kit: 373.50mm (P/N 460-23138001)
Slide Rails Kit: 550 ~ 615mm (P/N 460-23148001)
DIY Kit for 2nd Mac mini consisting of all metal parts, screws, rubbers, cables (P/N 460-24148001)