¡U

Overview

¡U

Features

¡U

Specifications

¡U

Package
The Thunderbolt ™ technology is the newest, most powerful, and flexible I/O technology ever created for a personal computer today. It can be utilized to many products, but the most popular usage is in storage products. Thunderbolt™ technology offers lighting data transfer speed and daisy chain up to six devices without degrading the speed rates.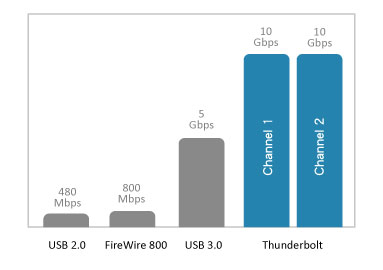 The lightweight Storage for everyone: DataTale PAIR 2-Bay RAID System
Designed for the most demanding applications, the DataTale Thunderbolt™ RAID system delivers a new level of performance to creative workflows and professional storage users. The PAIR RS-S2T RAID System firmly seals away any two 9.5mm or 12.5mm 2.5-inch hard drives or SSDs (solid-state/electronic drives), which defends them from bumpy rides with a slender yet durable housing.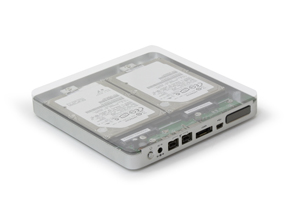 By employing the new Thunderbolt™ technology and SSD capability, the PAIR Thunderbolt™ RAID System becomes the perfect external boot-up unit with data security and can be accessed at a maximum of 10Gbit per second, like the sound of thunder!
With speeds up to 12 times faster than FireWire 800, two times faster than USB3.0, DataTale PAIR Thunderbolt™ RAID System features RAID security and convenience for Daisy Chain.

Hardware RAID: by friendly RAID MASTER
The PAIR RS-S2T Thunderbolt™ RAID System permits straightforward hardware RAID mode- JBOD (None RAID), RAID 0 (Striping), RAID 1 (Mirroring), and HyperDuo, which can be set by RAID MASTER. The RAID MASTER, GUI (Graphic User Interface), allows professionals to centralize and effectively supervise complicated RAID applications. With the RAID MASTER, one can configure the RAID task, receive reports on any system problems, and customize RAID management for the RAID System!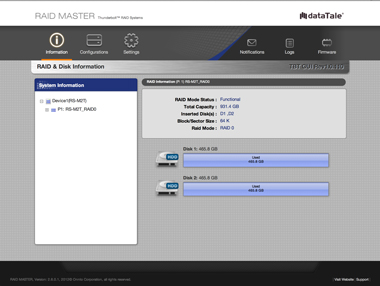 �€� Connects via Thunderbolt™ ports, up to 10 Gbps data transfer rate
�€� Supports 2.5-inch SATA hard drives (up to 6 Gbps) and SSDs
�€� Provides RAID tasks: JBOD (None RAID), RAID 0 (Striping), RAID 1 (Mirroring), and HyperDuo
�€� Compatible with Time Machine (Apple) for backups and file protection
�€� Provides multiple devices with increased speed and flexibility via daisy-chain
�€� Monitors system status via LED indicators or GUI
�€� Configures hardware RAID features using RAID MASTER (GUI)
�€� Dissipates heat efficiently with aluminum housing and powerful fan

Specifications

Download

HDD Support
2.5-inch SATA HDD
2.5-inch SSD
Connector
Thunderbolt port x 2
Interface Transfer Speed
Up to 10 Gbps x 2
RAID mode
JBOD, RAID 0, RAID 1, HyperDuo (Safe/Capacity)
LED Indicator
Power/Connect/Access/Rebuild/Smart Error/Fan Error
System Material
Aluminum case with PC parts
Power Supply
Input: AC 100~240V,
Output: DC +12V/3.5A
FAN
High performance fan x 1
Dimension
153(L) x 153 (W) x 25 (H) mm
Weight (w/o HDD)
260 g
System Requirements
Computer with a Thunderbolt™ port
Mac OS X10.7 or higher