¡U

Overview

¡U

Features

¡U

Specifications

¡U

Review

¡U

Package
The DataTale SMART 4-Bay RAID series are the perfect solutions for those requiring a massive storage system with user-friendly operations! The SMART 4-Bay RAID Systems provide powerful storage management under JBOD (None RAID), RAID 0 (Striping), RAID 1 (Mirroring), Span, Clone, RAID 5, and RAID 1+0; plus optional Rebuild setup under RAID 1+HotSpare, Clone+HotSpare, and RAID 5+HotSpare!

The RC-M4SP comes with one USB3.0 connection with USB2.0/USB3.0 technology compatible capability. With just a few push on small buttons, the LCM display allows fundamental RAID operations and system status monitor, including inserted hard drives and the RAID System itself!

The RAID MASTER, GUI (Graphic User Interface), permits professionals to centralize yet effectively supervise complicated RAID applications. With the RAID MASTER, one can configure multiple RAID tasks, receive reports on any system problems, and customize storage management for the RAID System!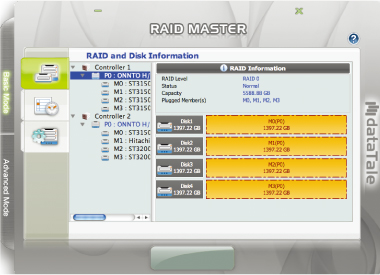 The SmartGuider* design makes hard disk installation, removal and insertion as easy as 1-2-3! This feature enables trayless hard drive stance, and effortless hard drive hot-swap whenever necessary! In addition to the low-dB fan, the upright stand of the HDDs maximizes airflow by exhausting hot air using high RPM SATA HDDs. Together with vents and rugged aluminum case, the entire DataTale design features a neat and efficient channel for heat dissipation.
*Taiwan New Design Patent M354309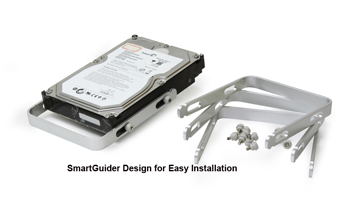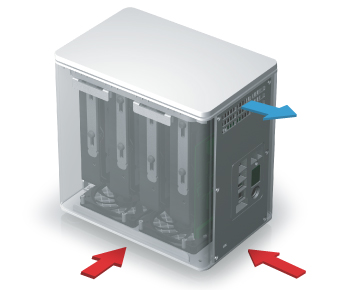 For heavy users who would store individual hard drive, the optional HDD Soft Sleeve is the good solution. Working with SmartGuider the hard drives can be protected from the dust and carried around.

Supports current SATA compliant hard drives
Connects flexibly via USB 3.0 and USB 2.0
Provides JBOD, RAID 0 (Striping), RAID 1 (Mirroring), Span, Clone, RAID 5, RAID 1+0, and optional HotSpare
Configures RAID modes easily using LCM or RAID MASTER (GUI)
Monitors system status via LED indicators, LCM or RAID MASTER
Prevents over-tightened hard drives with auto-limiting segmented screws
Features effortless and trayless hard drive hot-swap or hot-plug with the SmartGuider
Dissipates heat efficiently with aluminum housing and the SmartGuider design
Maximizes airflow with silent fans and mechanical designs
Specifications

Download

Interface
USB 2.0/3.0
HDD Support
3.5??SATA hard disk
Connector
USB 3.0 x 1
Data Transfer Speed
USB 3.0: up to 5Gbit/sec
USB 2.0: up to 480Mbit/sec

RAID Mode
JBOD (None RAID), RAID 0 (Striping), RAID 1 (Mirroring), Span, Clone, RAID 5, RAID 10 (1+0), and optional HotSpare
LED Indicator
Power / Connection / Health / Access / Rebuild / RAID Alert
Material
Aluminum case with plastic parts
Power Supply
Input: AC 100~240V, Output: DC +12V/7.5A, with Peak current: 12A
FAN (x2)
Dimension: 80 x 80 x 10 mm
Speed: 1900 R.P.M +-10%
Noise: 17.13 dB(A) max

Dimension
210 (L) x 138 (W) x 213 (H) mm
8.3 (L) x 5.4 (W) x 8.4 (H) inch
Weight(w/o disk)
2.2 KGS
4.85 LBS
4-Bay RAID Unit
USB Cable
External Power Supply
HDD Handles x 4
HDD Screws x 16
RAID MASTER CD
Quick Start Guide