RAID MASTER
The RAID MASTER is a specially-designed GUI software specifically for our DataTale SMART Thunderbolt RAID Systems.
The drivers of the RAID MASTER for Mac will be provided via our website. The RAID MASTER delivers a more convenient
yet modern way to manage the RAID System.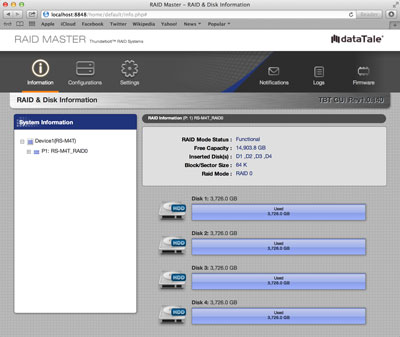 Installing RAID MASTER
First, copy the 'pkg' file onto the host computer desktop, and double click on the icon.

You will be guided through the steps necessary to install this software. Please click 'Continue' to
begin the installation process.

Then, under the second step, you will need to select a disk to install the RAID MASTER, which
the host computer?|s available disk(s) will appear for selection. Please click 'Continue' to continue
the installation process.

To personally change the Installation Type, please click 'Customize' to specify your preferences.
If the Standard Installation is suitable for you, simply click 'Install' to continue the installation process.

Once the RAID MASTER has been successfully installed, please click 'Close to end the Installation process.

Now, you will see the RAID MASTER icon appearing on the desktop and in the Applications folder.